Discount West Miami Movers


West Miami Movers – When it comes to moving, experience matters. Discount South Florida Movers has been operating in Florida for over 15 years. During that time, we've done every kind of home or commercial move imaginable.  We always put our customers first and you can put your mind at ease knowing that our professionals will move your belongings in the swiftest and safest manner.
Since no two moves are the same we offer a wide range of services to ensure we can meet your needs. Even if you are moving delicate items like a piano or artwork, our experts can securely pack and transport your items near, far, or even directly to storage. Our rates are the lowest around but no one offers a higher quality or a better experience. Come get a free quote from us today!
West Miami Florida Moving Services
About West Miami Florida
West Miami is a city of 6,000 people located in the heart of Dade County. The population of is overwhelmingly Cuban. 84% of the residents in the city have Cuban origins. One Cuban resident of note is Florida Senator Marco Rubio who also ran in the Republican Presidential Primary in 2016. Spanish is the primary language of 87% of the people living there.
The city was incorporated in 1947 and has grown steadily since. In the 1990s much of the city was renovated. New sidewalks were built, many of the trees were fixed up, and new parking was added to the city. The city was also introduced a free transportation programs that operates during the day Monday through Friday.

Other Discount Moving Service Locations in Miami-Dade County
Our Service Rating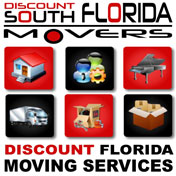 Florida Moving Services
Residential and Commercial Moving
Area
Description
Discount South Florida and West Miami movers provide low rates on residential, commercial, piano and long distance moving.