Discount North Miami Beach Movers


North Miami Beach Movers – An experienced moving company can make all of the difference in the world. Discount South Florida Movers have decades of experience serving all of Florida. We will put your mind at ease by delivering your belongings to their new home in a safe and timely manner, all at the lowest rates around. We guarantee that you will be satisfied with your move.
Special requests aren't a problem for Discount South Florida Movers. If you need to have your move done at night or on weekends that won't be a problem and we'll do it free of charge. We can also move specialty items like pianos. Do you need your belongings securely packed? Our experts will do that and anything else your home or office move requires.
North Miami Beach Florida Moving Services
About North Miami Beach Florida
North Miami Beach is a city in northern Dade County. When the city was first incorporated in 1927 it was named Fulford and later changed its name in 1931. The city has a bustling Chinatown district that is located between 163rd and 167th Street. This center is the hub of Asian business activity in the county.
The city is also home to The Mall at 163rd Street, an enclosed shopping center. Other attractions include a Spanish monastery in its authentic medieval style and the Fulford-by-the-Sea Monument. There are also a number of parks and recreational centers in the city with Washington Park Community Center and Allen Park Youth Center being the two most prominent.

Other Discount Moving Service Locations in Miami-Dade County
Our Service Rating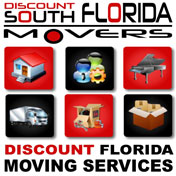 Florida Moving Services
Residential and Commercial Moving
Area
Description
Discount South Florida and North Miami Beach movers provide low rates on residential, commercial, piano and long distance moving.