Discount Doral Movers


Doral Movers – When you are getting ready to move the process can seem daunting. South Florida Discount Movers is here to help you. Our team of professionals has many years of experience in the industry. We handle everything to do with the process from packing to final transport at the best rates around. Our mission is make the process hassle free for you.
Serving the entire area, the expert movers at South Florida Discount Movers can assist you with any of your moving needs. We have dedicated teams to both residential and office building moves.  Whatever your specific needs are whether it be nights and weekend scheduling or a long distance move let the pros at South Florida Discount Movers show you what we can do for you.
Doral Florida Moving Services
About Doral Florida
Doral is medium sized city in the western part of Miami-Dade County. This city of 54,000 people was just recently incorporated in 2003 although it was first settled in the1950s. It boasts its own free trolley system with seven cars running over three lines which also connect it to Florida's Metrorail. There are also a number of colleges in the city with five colleges based in or having campuses in the city.
The city is known for the large number of shops and businesses that are located within the city. Large corporations such as Benihani, Perry Ellis International, and Carnival Cruise Lines are all headquartered in the city. Fortune and CNN ranked the city as being the 51st best in the nation for its mix of businesses and lifestyle appeal.

Other Discount Moving Service Locations in Miami-Dade County
Our Service Rating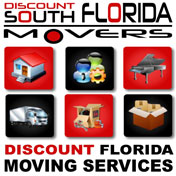 Florida Moving Services
Residential and Commercial Moving
Area
Description
Discount South Florida and Doral movers provide low rates on residential, commercial, piano and long distance moving.