Discount South Florida Movers Reviews
Discount South Florida Movers
Discount South Florida Movers team always strives to make our client experience the best it can be.
Please let us know what your experience was like by rating us, using the simple form on the right.
Your rating is valuable to us and will help us provide the best possible service to all our clients. Thank you for choosing Discount South Florida Movers.
See What Our Customers Are Saying About Discount South Florida Movers
As a military family we move quite a bit. Was very pleased with the service that we received from Discount South Florida Moving. Hopefully this is our last move but if not we will definitely use you again.
Ken Bittick – Orlando, FL    
---
 Couldn't have been more pleased with how smoothly our move went. Me and my family thank you so much.
Barbara Weisz – Weston, FL    
---
The professionals at Discount South Florida Movers completed our office move smoothly and efficiently. I really don't think it could have gone much better.
Darren Lee – Ft Lauderdale, FL    
---
I was very impressed with the variety of services they had to offer. There is no longer any need to run all over town to supply and prepare for a move. its all at one convenient place. Thanks to the Discount South Florida movers team.
Sharron Olsen – Boca Raton, FL    
---
I'm a complete box packing misfit so I was very glad when the guys from Discount South Florida Movers did that for me. They really were pleasant to deal with and at such a great price.
E Pransley – Key West, FL    
---
Couldn't believe the service we got for such a bargain price. Very knowledgeable staff that were easy to get along with. I was very impressed and highly recommend them.
Andrew Youngs – N Miami, FL    

Our Service Rating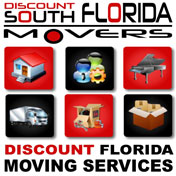 Florida Moving Services
Area
Description
Read Discount South Florida Movers customers reviews and leave your own comments.