Discount Homestead Movers

Homestead Movers – There is no more stressful event than moving. At Discount South Florida Movers we understand how difficult it can be and we're here to guide you through the process. Our team of professional movers has over 15 years of local service. We have help people just like you in the Miami area. Whatever your moving needs are, we've done it before and can help you with the process.
Even though we have the lowest rates around the quality of our work isn't scarified at all. Here at Discount South Florida  Movers we offer a wide array of services to suit your needs. We assist you with your move day or night, including weekends. Are you moving far away? That also isn't a problem. Let our team of experts handle all of your moving needs and so you will have one less thing to worry about.
Homestead Florida Moving Services
About Homestead Florida
Homestead is the second oldest city in Miami-Dade County and located in its southwest strip. It serves as the southern terminus of the Florida Turnpike that connects it to the rest of Miami. While the city is famous for its Air Force base and the mysterious Coral Castle, it is most well-known for hosting the finale of the NASCAR Sprint Cup every year.
Despite getting seriously damaged by hurricane Andrew in 1992, this city of 60,000 bounced back within the decade. The city boasts a number of outdoor activities. There are numerous marinas on its coast. A trolley can take you to either Everglades National Park or Biscayne National Park. This established town has a lot to offer, especially for the outdoorsy type.

Other Discount Moving Service Locations in Miami-Dade County
Our Service Rating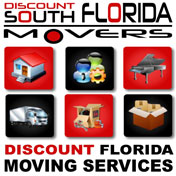 Florida Moving Services
Residential and Commercial Moving
Area
Description
Discount South Florida and Homestead movers provide low rates on residential, commercial, piano and long distance moving.