Discount North Bay Village Movers

North Bay Village Movers – Everyone knows that moving isn't easy. The pros at Discount South Florida Movers are here to guide you through the process and do all of the heavy lifting for you. With over fifteen years of service in and around the area, our quality is guaranteed and our rates can't be beat. You can put your mind at ease that the professionals at Discount South Florida Movers can take care of you.
We can accommodate any need you might have. Our team of professionals can even move pianos and other specialty items. Whether you are moving an office or your home, day or night, we can help you. No matter what your needs are or how far you are going, can help you.
North Bay Village Florida Moving Services
About North Bay Village Florida
North Bay Village is a city in northeastern Miami-Dade County. Most of what is now part of the city was originally underwater. In 1940 the island was created from the dredging activity in the area. Even now, the city's 7,000 people live on less than one third a square mile which makes the city over 15 times as densely populated as the rest of the county.
The village is known as "Radio Village of South Florida" because there are three stations that broadcast from the city. There are two TV stations, GOL TV a soccer stations and WSVN-TV a Fox affiliate, headquartered there. In addition, Clear Channel operates WIOD, "Miami's News, Traffic, and Weather Station 24/7" there as well.

Other Discount Moving Service Locations in Miami-Dade County
Our Service Rating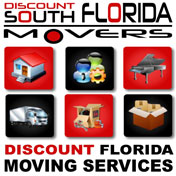 Florida Moving Services
Residential and Commercial Moving
Area
Description
Discount South Florida and North Bay Village movers provide low rates on residential, commercial, piano and long distance moving.