Discount South Miami Movers

South Miami Movers – Moving is one of the great stresses in life, but it doesn't have to be. Discount South Florida Movers has been guiding people through the process for decades. Let us minimize your stress and smoothly and safely get your belongings to their new destination. Your satisfaction is our highest concern and we guarantee our work will meet it. Don't settle for less.
Even with the lowest rates around, we offer a high quality experience. Whatever your moving needs are, we can do it. From safely packing your items to shipping them to their new home we can help with all of your moving needs. No matter if you are moving out of South Florida or simply down the street we want to help you move.
South Miami Florida Moving Services
About South Miami Florida
South Miami is a small city of a little more than 11,000 that lies along US-1 in Miami-Dade County. The city is known for having shrunk over the years with many neighborhoods leaving the city to incorporate elsewhere or even become unincorporated. This phenomenon has created odd borders around the city.
Great strides have been taken by the residence to keep a small town feel to the city. Many of the housing is small and a lot of the shopping is comprised of mom and pop stores. Culturally, the city is a member of the Sister Cities International and through there become connected to Grand Turk in the Turks and Caicos as well as Basseterre in St. Kitts.

Other Discount Moving Service Locations in Miami-Dade County
Our Service Rating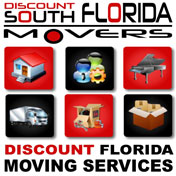 Florida Moving Services
Residential and Commercial Moving
Area
Description
Discount South Florida and South Miami movers provide low rates on residential, commercial, piano and long distance moving.