Discount Key Biscayne Movers


Key Biscayne Movers – To the average person, planning a move can be a nightmare. We here at Discount South Florida  Movers understand how stressful the process is. For more than fifteen years, we have been helping people navigate the entire moving process from beginning to end. Our mission is to give you peace of mind by ensuring that your belongings reach their new destination in a safe and timely manner.
As our name suggests, we are able to provide you with the lowest rates around without sacrificing any quality. We are experts in all facets of the move, from securely packing to the final delivery.  You can rest assured that the experts at Discount South Florida Movers will handle all of your moving needs to your complete satisfaction.
Key Biscayne Florida Moving Services
About Key Biscayne Florida
Key Biscayne is an island located just south of Miami Beach. The Rickenbacker Causeway connects the island to Miami proper.  Due to the location of the island and its elevation being so close to sea level, this island is often the first to be evacuated when a hurricane threatens. The island is home to 12,000 residents. It was also famously the vacation home of Richard Nixon.
The island was first used as a coconut plantation which at the time was the largest in the country. After the causeway was built, people started moving to the island and it was incorporated in 1991. It was the first new city in the county in over 50 years when it incorporated. The city is also famous for hosting the Sony Open Tennis tournament every year.

Other Discount Moving Service Locations in Miami-Dade County
Our Service Rating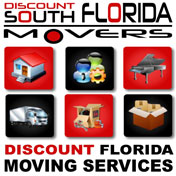 Florida Moving Services
Residential and Commercial Moving
Area
Description
Discount South Florida and Key Biscayne movers provide low rates on residential, commercial, piano and long distance moving.