Discount South Beach Movers


South Beach Movers – Discount South Florida Movers has been helping people move in the Miami area for the last 15 plus years. We know that moving can be a huge hassle. Our experts can remove that stress from your home or office move. At Discount South Florida Movers the customer comes first. We guarantee that you will be satisfied with your move.
In order to help you best we can manage all aspects of your move. From packing to shipping, we do it all and can accommodate any request you might have. We even give you the ability to schedule your move on a night or weekend at no extra charge. Even though are rates the lowest around, we don't sacrifice any quality. Let us help you with your moving needs today.
South Beach Florida Moving Services
About South Beach Florida
South Beach is a neighborhood in Miami Beach. It includes all of the barrier islands in the city that are south of Indian Creek.  It was the first neighborhood to be developed and served as a connector to many of the beaches. A development boom in the 80s has turned this neighborhood of 40,000 into a home for the wealthy, especially in the fashion industry.
This popular tourist destination is home to hundreds of clubs and restaurants.  It is especially popular with members of the LGBT community, many of whom contributed to the resurgence of the neighborhood. The influx of tourism and fashion professionals has led to a boom in the local economy.

Other Discount Moving Service Locations in Miami-Dade County
Our Service Rating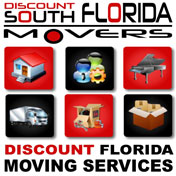 Florida Moving Services
Residential and Commercial Moving
Area
Description
Discount South Florida and South Beach movers provide low rates on residential, commercial, piano and long distance moving.