Discount West Hollywood FL Movers


West Hollywood Movers – At Discount South Florida Movers, we always put the customer first. Whatever your needs are, our team of experts can help you. With over 15 years moving people in South Florida, we've earned a reputation for simplifying any move. We guarantee that you will be happy with your move and at a rate that can't be beat in the area.
We offer a number of services to help with your move. We can securely pack your belongings and even arrange for long distance shipping. Pianos, artwork, and antiques are no problem for our professionals either.  If you have any special requests, please let us know so that we can accommodate you. Whatever your needs are, call us for your residential or commercial move today!
West Hollywood Florida Moving Services
About West Hollywood Florida
West Hollywood FL is a large track of unincorporated area that is recognized as a neighborhood in Broward County. The community resides entirely within the city of Hollywood, but is not a part of it. With 61,000 people it is extremely large for an unincorporated neighborhood.  The area lies very close to sea level with their elevation being only 10 feet above it.
It was first settled shortly before the 1950s as it was first recorded in the 1950 census.  The relatively young population has a median income of $43,000 at an average age of 32. The neighborhood is served by the Broward County Public Schools.

Other Discount Moving Service Locations in Broward County
Our Service Rating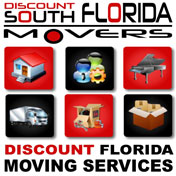 Florida Moving Services
Residential and Commercial Moving
Area
Description
Discount South Florida and West Hollywood movers provide low rates on residential, commercial, piano and long distance moving.