Discount Pompano Beach Movers


Pompano Beach Movers – Discount South Florida Movers wants to make your move as easy as possible. Our experts can guide you through the entire process. We have been helping people in the Broward area move for decades. Set your mind at ease and go with the pros. We guarantee that you will be satisfied with your move and our rates are the most competitive around.
We can take care of all of your moving needs for any residential or commercial move. From beginning to end, our team can do it all including securely packing and labeling your belongings to arranging for shipping for long distance moves. If you need to move in South Florida we are the ones to call. Call or use our web form to get a free quote today.
Pompano Beach Florida Moving Services
About Pompano Beach Florida
Pompano Beach is a city in South Florida that is home to over 100,000 residents. It was incorporated in 1908 and derives its name from the fish that is found off its coasts. The city, located in the northern part of Broward County is in the middle of a redevelopment boom.  The real estate market has been featured on various media outlets and is considered to be one of the hottest in the country.
The real estate boom was started by local efforts to renovate the city's downtown and waterfront areas. This has ultimately led to a multi-billion dollar development effort. Associated Grocers of Florida and Premeds are also headquartered within the city.  Other attractions in the city are the Pompano Park and the Fern Forest Nature Park.

Other Discount Moving Service Locations in Broward County
Our Service Rating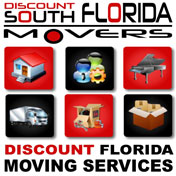 Florida Moving Services
Residential and Commercial Moving
Area
Description
Discount South Florida and Pompano Beach movers provide low rates on residential, commercial, piano and long distance moving.