Discount Miramar Movers

Miramar Movers – Moving can be very stressful, especially when you are doing it by yourself. The experts at Discount South Florida Movers have been helping people like you with all of their residential and commercial moving needs since 2001. We pride ourselves on being able to meet all of your moving needs and our rates are the best in South Florida.
We can help you with anything you need for your move from planning to packing. Specialty items like pianos aren't a problem and neither are nights and weekend moves. We can move your belongings any distance and can provide shipping for the longest distance moves. Come request a free quote from us today and see why our rates are the best and our service is unbeatable.
Miramar Florida Moving Services
About Miramar Florida
Miramar is a large city of 130,000 located at the southern tip of Broward county. The original plan for was to serve as a bedroom community for Miami and Fort Lauderdale. Development started in 1953 and the town was incorporated in 1955.  It also ended up becoming an exclusive suburb to Havana residents as well before the revolution.
There are some sizable offices in the city as well. The FBI Miami field office and General Services Administration are housed in the city in a 333,000 square foot LEED building. Spirit Airlines also makes the city their headquarters along with JL Audio, Arise Virtual Solutions, and Chetu Inc.

Other Discount Moving Service Locations in Broward County
Our Service Rating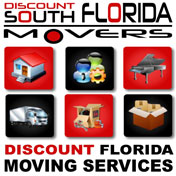 Florida Moving Services
Residential and Commercial Moving
Area
Description
Discount South Florida and Miramar movers provide low rates on residential, commercial, piano and long distance moving.