Discount North Lauderdale Movers


North Lauderdale Movers – Here at Discount South Florida Movers we understand that moving can be stressful. Our experts will set your mind at ease with our professionalism while we safely and swiftly move your belongings to their new destination. We have been helping people in and around Broward for over 15 years with all of their moving needs. Let us do the heavy lifting for you.
We offer a wide range of services and can handle most special requests. From securely packing your items to storage solutions, we do it all. Whatever you need for your residential or commercial move we can help you. We guarantee that you will be satisfied with your move. Request a quote today and see how unbeatable our rates are!
North Lauderdale Florida Moving Services
About North Lauderdale Florida
North Lauderdale is a small city of 41,000 in the interior of Broward County.  The city was designed by Morris Lapidus who had previously designed Collins Avenue for Miami Beach and was well know for his Neo-Baroque designs. The city spans for over 4.5 square miles and borders the west side of Fort Lauderdale and the South Side of Margate.
Recently the city has seen an influx of population. This has led the city to start redesigning portions to accommodate the new residents without expanding outwardly. This suburb has been named one of the top 100 Communities for Youth by America's Promise Alliance.

Other Discount Moving Service Locations in Broward County
Our Service Rating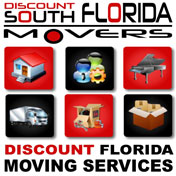 Florida Moving Services
Residential and Commercial Moving
Area
Description
Discount South Florida and North Lauderdale movers provide low rates on residential, commercial, piano and long distance moving.