Discount Coconut Creek Movers


Coconut Creek Movers – Every move is unique. At Discount South Florida Movers, we can draw from our 15 years of experience to come up with a plan to meet your specific needs. Our team of experts is on hand to show you why people keep coming back to us for all of their moving needs. We are able to provide the highest level of quality for the best rates around. Request a free quote and see why our rates are the lowest in the area
There is no part of your residential or commercial move that we can't do. Let us know of any special requests you have and we will fulfill them. Our experts will securely pack your belongings and can even move specialty items such as pianos and antiques. Whether you are moving down the street, across Florida or the country, let us help you with your move.
Coconut Creek Florida Moving Services
About Coconut Creek Florida
Coconut Creek is a medium sized city of 53,000 in the South Florida metropolitan area. This heavily planned city is known for the environmental considerations that were taken in its design. The city is certified as a "Community Wildlife Habitat".  The city is abounding with trees, waterways, and cultivated public gardens.
There are many points of interest in the city. The famous MMA team, American Top Team is headquartered here. The city is also home to Butterfly World, the largest butterfly park in the entire world.  Other attractions include the Recreation Complex, the Gold Coast Ballroom, as well as the Seminole Casino.

Other Discount Moving Service Locations in Broward County
Our Service Rating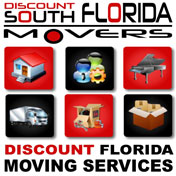 Florida Moving Services
Residential and Commercial Moving
Area
Description
Discount South Florida and Coconut Creek movers provide low rates on residential, commercial, piano and long distance moving.