Discount Oakland Park Movers


Oakland Park Movers – At Discount South Florida Movers we put the customer first. We know that moving is stressful and can be overwhelming at times. Our team of experts is on hand to guide you through the process. We have 15 years plus of experience in South Florida helping people navigate the process. You can rest assured that we will take the utmost care of your belongings as they are moved in a timely manner.
We offer a wide array of services to help you with your move. If you have delicate and valuable items like artwork, antiques or pianos we can securely pack and move them for you.  We can also move items directly to storage and can even provide storage if you need it. Whatever your residential or commercial moving needs are, call the pros at Discount South Florida Movers.
Oakland Park Florida Moving Services
About Oakland Park Florida
The City of Oakland Park is located in the middle of Broward County. Originally incorporated in 1925, the town went bankrupt after the hurricane of 1925 and reincorporated as a city in 1926. After annexing Twin Lakes South and North Andrew Gardens, the population now stands at 44,000. Rising real estate prices in the area has led to a series of development plans in the downtown area of the city.
The movie theater chain Muvico is headquartered in Oakland park as is the Funky Buddha Brewery which served all of South Florida. Elementary school children are taught at the city Elementary School which is on the National Register of Historic Places. Plans are underway to redevelop much of the city as a mixed use pedestrian friendly area.

Other Discount Moving Service Locations in Broward County
Our Service Rating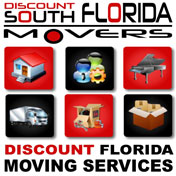 Florida Moving Services
Residential and Commercial Moving
Area
Description
Discount South Florida and Oakland Park movers provide low rates on residential, commercial, piano and long distance moving.