Discount Fort Lauderdale Movers

Fort Lauderdale Movers – Don't let moving stress you out. Call the pros at Discount South Florida Movers today and let us guide you through the process. We can help you plan out your move and then take care of the move itself. Put your mind at ease knowing that our professionals are treating your belongings with all of the care that they need. Our rates are the best and our service is second to none.
With over fifteen years of experience, whatever your moving needs are we've done it. From packing up your belongings to arranging long distance shipping we can accommodate all of your moving requirements. No need to find someone else to move all of your specialty items either. Our pros can move pianos, artwork and other specialty items as well. Let us know how we can help you move.
Fort Lauderdale Florida Moving Services
About Fort Lauderdale Florida
Fort Lauderdale is the largest city and the county seat of Broward County.  The city's name comes from the series of forts that were built in the area during the Seminole wars. The city was settled in the 1830s and finally incorporated in 1911. After World War I returning service members caused the population of the city to boom. This led to the city annexing neighboring unincorporated territories.
The city is a huge tourist destination. There are many resorts along the ocean and a lot of cruise ships operated off of the shores. The International Boat Show, the largest boat show in the world, brings in over 100,000 visitors every year.  Since it is located near the Bahamas and on the way to the Caribbean many yachts stop there as well.

Other Discount Moving Service Locations in Broward County
Our Service Rating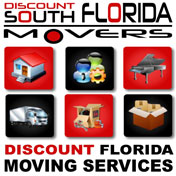 Florida Moving Services
Residential and Commercial Moving
Area
Description
Discount South Florida and Fort Lauderdale movers provide low rates on residential, commercial, piano and long distance moving.