Discount Davie Movers


Davie Movers – Most people think moving will always be a stress, but the truth is it doesn't have to be. With the right pros the process can be a breeze. Discount South Florida Movers has 15 plus years of expertise helping people across a wide variety of moves in the area. Our rates are the lowest around and our work is of the highest quality. We guarantee you will be satisfied with your move.
We offer a wide array of packing, shipping and storage services to assist with all aspects of your residential or commercial move. We also offer the flexibility to schedule your move at night or on a weekend at no extra charge to you. We welcome any special requests that you might have. Let us help you with your move.
Davie Florida Moving Services
About Davie Florida
Davie is a town in the interior of Broward County. With a population of 92,000 it is the largest "town style" government in the state and one of the largest in the country. Incorporated in 1909, the town was designed with a Western motif. Buildings were designed using Wild West architecture. It even used to be home to a western theme park.
One attraction is the Viele House built in 1912. It is the oldest residence still standing in the city and has survived two natural disasters that leveled much of the town. Other examples of the original architecture can be found is their school and the home of Colonel Charles Walsh. All three structures have been move to be adjacent to each other.

Other Discount Moving Service Locations in Broward County
Our Service Rating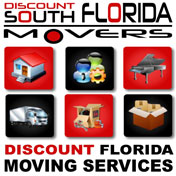 Florida Moving Services
Residential and Commercial Moving
Area
Description
Discount South Florida and Davie movers provide low rates on residential, commercial, piano and long distance moving.