Discount Tequesta Movers


Tequesta Movers – If moving were easy then no one would dread it. Discount South Florida Movers have been relieving the stress of moving for people prior to 2001. We will do the heavy lifting for you. We can even walk you through the things that need to be done before the moving day. Our team of experts will put your mind at ease that your move is being handled quickly and professionally.
No two moves are the same. As such we try to be as flexible as possible. We offer a wide range of services to meet your needs from packing to storage. Nights and weekend moves can be scheduled at no additional charge to you. Come get a free, no obligation estimate from us today and see how low our rates are. We want to help you with all your moving needs.
Tequesta Florida Moving Services
About Tequesta Florida
Tequesta is a rich village that also is the northernmost municipality in Southern Florida. The village was first settled in the 1950s as a planned community around the Country Club. In 1957 the village incorporated and has since grown to 5,500 people.  The name was chosen because of the Native American tribe that of the same name that resides in South Florida.
This planned community has a family feel to it and as such there are numerous churches of varying denominations to choose from. The village residents that attend public school do so at neighboring Jupiter's schools. Some of the notable people that reside in this village are actor Burt Reynolds, musician Kid Rock, and NFL Hall of Fame quarterback Joe Namath.

Other Discount Moving Service Locations in Palm Beach County
Our Service Rating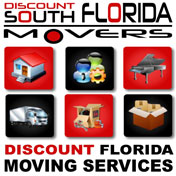 Florida Moving Services
Residential and Commercial Moving
Area
Description
Discount South Florida and Tequesta movers provide low rates on residential, commercial, piano and long distance moving.