Discount North Palm Beach Movers


North Palm Beach Movers – Don't trust just anyone to do your move. No two moves are the same and each move needs to be tailored to your individual needs. Discount South Florida Movers has been moving people for decades. During that time, we've seen it all and can help you plan the easiest, most painless move possible. Your satisfaction is guaranteed.
In order to meet all of your needs, Discount South Florida Movers can do as much or as little of your move that you require. Whether you need us to securely pack your belongings or just need high quality packing supplies, we've got you covered. Distance is no factor either, from across the street to across the globe we do it all. Come get your free estimate today and see how low our prices are!
North Palm Beach Florida Moving Services
About North Palm Beach Florida
North Palm Beach is a village in Palm Beach County in South Florida. The land for the village was purchased for $5.5 million dollars by John D. MacArthur. He then settled the land and performed extensive dredging to give an array of waterfront cul-de-sacs. When the village was finally built in 1956 it was named the best planned community of 1956 by the National Association of Home Builders.
The village is home to a public gold club that is designed in a Jack Nicklaus Signature style. There is also an enclosed shopping mall, the Twin City Mall. It was the built in 1970 and is the second enclosed shopping mall in the county but was eventually demolished and replaced with a strip mall and grocery store. There is also a state park located right next to the village.

Other Discount Moving Service Locations in Palm Beach County
Our Service Rating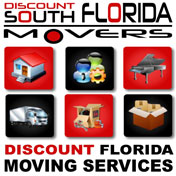 Florida Moving Services
Residential and Commercial Moving
Area
Description
Discount South Florida and North Palm Beach movers provide low rates on residential, commercial, piano and long distance moving.