Discount Manalapan Movers


Manalapan Movers – There are so many things that go into a move. For most people it can feel overwhelming. Discount South Florida Movers wants to relieve that stress from your life. Our experts have been helping people just like you with all of their moving needs since 2001. We can walk you through what needs to be done before the moving day and then our on-site supervisors will ensure that your move runs smoothly.
Our moving professionals can help you with whatever your residential and business moving needs might be. We can move your specialty items such as pianos and antiques. We also can move your items directly to storage and can even provide storage if that's what you need. Come check us out. Our rates are the lowest around and our service is second to none.
Manalapan Florida Moving Services
About Manalapan Florida
Manalapan is a town in the Florida Metropolitan area located within Palm Beach County. The town was first settled in 1889 by charter of President Benjamin Harrison. In 1931 the town was incorporated by Commodore Harold Vanderbilt and was named after a town in New Jersey. Since then it has been slowly and carefully developed into a small community.
The town is notable for several things. It was here that Circuit Judge Curtis Chillingworth disappeared from his cottage in the city. The case has never been solved. More lightheartedly, the town was also the set for a large part of Body Heat which starred Kathleen Turner and William Hurt.  The town is also home to several celebrities including Don King, F. Lee Bailey, and Yanni.

Other Discount Moving Service Locations in Palm Beach County
Our Service Rating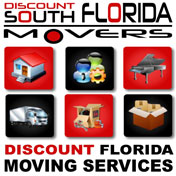 Florida Moving Services
Residential and Commercial Moving
Area
Description
Discount South Florida and Manalapan movers provide low rates on residential, commercial, piano and long distance moving.