Discount Riviera Beach Movers


Riviera Beach Movers – Are you nervous about an upcoming move? Let Discount South Florida Movers set your mind at ease. Our professionals have been helping people in Palm Beach county move since before 2001. We will treat you and your belongings with respect while we guide you through the process. We guarantee that you will be satisfied with your moving experience.
Whatever you need done with your residential or commercial move, we can do. Our specialists can move your piano or delicate antiques in the safest manner. We can cover any distance you need. Let us know what your needs are and we will accommodate them. Our rates are very discounted as well. Come get a free estimate from us and see.
Riviera Beach Florida Moving Services
About Riviera Beach Florida
Riviera Beach is a city in Palm Beach county that is also the easternmost city in South Florida. This small city of 32,000 is almost two thirds African American. Incorporated in 1922, the city encompasses 9.8 square miles and was named after the French Riviera. The city is currently served by several lines of buses through the Palm Tran service.
The city has several waterfront attractions. There is a marina in the city as well as a coast guard station. The Port of Balm beach is also located in the city, which is a major source of commerce in the area. A number of famous NFL players were born and raised in the city including Anthony Carter, Devin Hester, and Willie Young.

Other Discount Moving Service Locations in Palm Beach County
Our Service Rating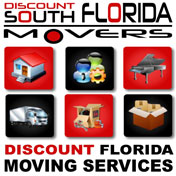 Florida Moving Services
Residential and Commercial Moving
Area
Description
Discount South Florida and Riviera Beach movers provide low rates on residential, commercial, piano and long distance moving.