Discount Boca Raton Movers


Boca Raton Movers – At Discount South Florida Movers, we know that no move is ever easy, but that doesn't mean it has to be a burden. For over 15 years, people in the South Florida area have been letting us take care of all their moving needs. Our experts will set your mind at ease with our professionalism while they move your belongings to their new destination.
To make your move easier, we can do just about anything that you need. We will securely pack your belongs and can even safely move specialty items such as pianos or artwork. Ask us about our storage solutions if you need a temporary place to move your items. With the lowest rates in the area and the highest commitment to service, we guarantee your satisfaction.
Boca Raton Florida Moving Services
About Boca Raton Florida
Boca Raton is one of the principle cities in the Miami Metropolitan Area. This city of 92,000 is the southernmost city in Palm Beach County. The city is famous for its strict development codes. No outdoor car dealerships are allowed and no billboards are allowed to be built. The city is a business center as well and as such the daytime population swells up well past the 92,000 mark.
Several businesses make their home in this wealthy city. Office supplies retail chain Office Depot and home security company ADT both are headquartered here. Some of the other attractions in the area are the Town Center Mall, which is the largest mall in the county, and their downtown which is known as Mizner Park.

Other Discount Moving Service Locations in Palm Beach County
Our Service Rating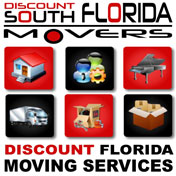 Florida Moving Services
Residential and Commercial Moving
Area
Description
Discount South Florida and Boca Raton movers provide low rates on residential, commercial, piano and long distance moving.