Discount Boynton Beach Movers


Boynton Beach Movers – Are you looking for a mover than has the experience to handle any residential or commercial move and who also has the lowest rates in South Florida? Then you've come to the right place! At Discount South Florida Movers we have been providing unbeatable service at the lowest rates for over many years. Contact us for your free quote and let's start planning that move.
There is a lot that needs to be done in any move. Much of it before the actual day of the move. Our experts can help you navigate this complicated process and come moving day, our onsite supervisors will ensure that your move is executed smoothly by our team of seasoned professionals. No matter what you need done, Discount South Florida Movers wants to help you with all of your home or office moving requirements.
Boynton Beach Florida Moving Services
About Boynton Beach Florida
Boynton Beach is a city in the southern part of Palm Beach County.  This city of 68,000 was first settled by Major Nathan Boynton, a civil war veteran from Michigan. While originally a farming community, the Florida Land Boom and an expansion of the Seaboard Air Line Railway caused much of the farmland to be redeveloped as housing.
There are many attractions in the ares.  One of the oldest attractions in the city is the Oceanfront Park. Voted the best family beach in Palm Beach County, this park and beach was renovated in the 90s and features extensive boardwalks. Another hot spot in the city is the their huge mall.

Other Discount Moving Service Locations in Palm Beach County
Our Service Rating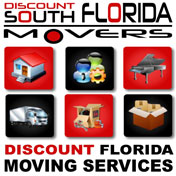 Florida Moving Services
Residential and Commercial Moving
Area
Description
Discount South Florida and Boynton Beach movers provide low rates on residential, commercial, piano and long distance moving.