Discount Delray Beach Movers


Delray Beach Movers – There are many movers out there. How do you know who's the right one for the job? Since 2001 Discount South Florida Movers has been setting themselves apart from the rest by offering the best service at the lowest rates in the area.  Our team of professionals will work with you every step of the way to ensure that you are completely satisfied with your move.
No matter what you need done with your residential or commercial move we can help you.  With over all the years of experience, we have been helping people with all facets of their residential or commercial move.  No matter what your needs are, from packing to long distance shipping and even storage solutions, we can accommodate you. Come call us now for a free quote and let us show you how we can help you with your move today!
Delray Beach Florida Moving Services
About Delray Beach Florida
Delray Beach is a city of 61,000 located in Palm Beach County. The earliest inhabitants of the area founded the Orange Grove House of Refuge, one of the many houses of refuge built in the area to give shelter to shipwrecked sailors. Like many of the cities in the area, the city started to change from a farming community to a more residential one during the Florida Land Boom.
The city is has achieved some acclaim over the years for the beauty and vibrancy of the town. The atlas maker Rand McNally rated it as America's Most Fun Small Town. It was also voted the 3rd Happiest Seaside Town by Coastal Living. The city is also host to the Delray Beach Open, a professional tennis tournament.

Other Discount Moving Service Locations in Palm Beach County
Our Service Rating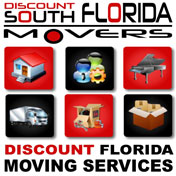 Florida Moving Services
Residential and Commercial Moving
Area
Description
Discount South Florida and Delray Beach movers provide low rates on residential, commercial, piano and long distance moving.